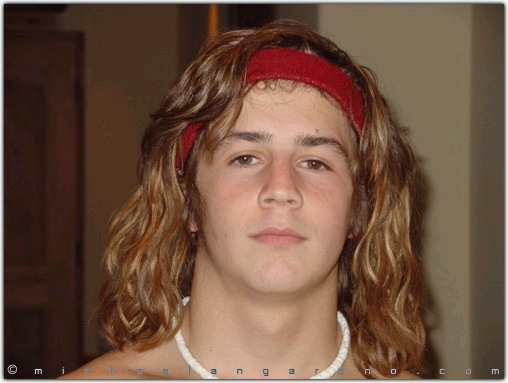 MICHAEL ANGARANO STARS WITH CONNOR IN SNOW ANGELS. THIS IMAGE IS FROM HIS WEBSITE.
The exact dates, times, and locations have now been announced for the World Premiere of "Snow Angels" at the 2007 Sundance Film Festival.

There will be a total of 6 screenings:

Friday , Jan 19 -- 5:30 PM -- Racquet Club
Saturday , Jan 20 -- 9:00 PM -- Screening Room, Sundance Village
Sunday , Jan 21 -- 9:15 AM -- Eccles Theatre
Wednesday , Jan 24 -- 2:30 PM -- Racquet Club
Thursday , Jan 25 -- 8:30 AM -- Library Center Theatre
Friday , Jan 26 -- 6:30 PM -- Rose Wagner Performing Arts Center, SLC

Here is the official blurb in the program guide:

SNOW ANGELS
U.S.A., 2006, 106 Minutes, color

Director:
David Gordon Green


Screenwriter:
David Gordon Green

David Gordon Green is not a filmmaker one immediately seeks out for upbeat sentiments about life. Indeed, his understanding of the realities of the human condition doesn't usually offer an in-depth explanation about the behavior or state of mind of his characters. But he is a master of tone and feeling. And in Snow Angels, the subtly superb achievement that is his latest work, he reaches a pinnacle of atmospheric expression that stays with you long after the narrative details fade.

The story of Snow Angels is fairly simply, and perhaps even familiar in the independent arena. A couple that has separated (Sam Rockwell and Kate Beckinsale) are each attempting to pick up the threads of a future when they are dealt a further blow that leads to a dark conclusion. And a somewhat-nerdy young man in the throes of discovering a first romance must also deal with the separation and consequent strife of his parents' failed relationship.

Green's accomplishments are not just in the realm of character study but in the intensity of the emotions he provokes. The lyricism of his storytelling belies his use of naturalism and invokes a beautifully constructed faux reality from which emotional truth flows. He is without question a filmmaker with a special gift.— Geoffrey Gilmore


Screenwriter : David Gordon Green
Producers : Dan Lindau, Paul Miller, Lisa Muskat, Cami Taylor
Cinematographer : Tim Orr
Editor : William Anderson
Production Designer : Richard Wright
Music : David Wingo, Jeff McIlwain
Casting Directors : Billy Hopkins, Suzanne Smith-Crowley, Kerry Barden
Cast : Sam Rockwell, Kate Beckinsale, Michael Angarano, Griffin Dunne, Amy Sedaris, Olivia Thirlby

LARRY-411'S REVIEW OF SNOW ANGELS (JANUARY 20, 2007):
"Snow Angels" is a glimpse in time of several relationships, some simmering and ready to boil, others cooling down, and at least one whose flame has yet to be lit. It's also a thriller, with a gunshot that is heard as the film opens. The narrative is linear but writer/director David Gordon Green, adapting the novel by Stewart O'Nan, takes the couples' stories and interweaves them in such a way that we never quite know all the secrets at the heart of the mystery. The film flashes back as we try to see how we got from there to here. First off, I have to say that it is a hard film to watch. As a rule I never post spoilers, so I won't get into too many details, but I think it's safe to say that it's a very sad story. In many ways the overriding theme deals with the promise of what once was versus the reality of what could have been. The "reality" is embodied in the relationships which are falling apart, as evident in the older couples. The "promise" is represented by the young couple whose lives are just beginning.

At the heart of the film is the relationship, tenuous as it is, between Sam Rockwell as Glenn and Kate Beckinsale as Annie. Glenn is, to put it mildly, one "wild and crazy guy." We watch him almost literally disintegrating before our eyes as he tries to get a grip on who he is and why his marriage is failing. Glenn is one of the most frightening characters I've seen outside of horror films. Rockwell turns in one of those rare performances that, as the film enters its final act, screams "award." Kate Beckinsale's Annie is breathtaking, in every sense of the word. We bear witness to a life in free fall as everything and everyone she loves seems just out of reach. You know those dreams where you can't quite get to where you want? You try to touch it but it stays at arm's length? That's Annie's world. Beckinsale has little to smile about in this film and her performance is heartbreaking. We so painfully watch as the madness around her takes its toll, and she weathers the way rain erodes rich topsoil, leaving little but rocky dirt underneath. Amy Sedaris is Annie's best friend Barb. She has her own marital fires to put out, and the relationship between Annie and Barb runs hot and cold as their own love lives intertwine in a way nobody can imagine. She is a joy to watch.

But In the midst of the darkness there are some lighter moments in it as well, and Michael Angarano (Arthur Parkinson), Olivia Thirlby (Lila Raybern), and Connor Paolo (Warren Hardesky) have the lion's share of them. Or maybe it's best put this way -- all the older characters have the occasional break in the somber mood, but almost all of the younger trio's scenes are a joy to watch. They are essentially the light in the darkness that surrounds the rest of the film.

It should be no surprise to fans of Angarano that writer/director David Gordon Green would have chosen him to play Arthur Parkinson. He's not yet comfortable in his own skin, a trait which could describe most adolescents. He's a bit shy, nervous, and even nerdy, yet he is charming enough that everyone else seems drawn to him even though he doesn't seem to be aware of it. As Arthur's muse, Olivia Thirlby's Lila is the female representation of those awkward teenage years and an almost equal counterpart to Michael's Arthur. Their tender tiptoeing around each other is one of the most touching depictions of first love I've seen in cinema. Their onscreen chemistry is nothing short of magical. And in a film that is decidedly down, Connor, as Arthur's best friend Warren, provides some of the much needed comic relief. Every scene he was in elicited laughter from the audience, so much so that as soon as he would appear onscreen the folks around me would smile. He is something of a smartass whose ego often backfires. He is funny and not quite as smart as he thinks he is, and it's especially endearing because I think we all knew someone like him in high school. Or maybe it was you.

Among other standout performances is Griffin Dunne (Don) as Arthur's flighty dad. Or should we say father, not really the "Dad" that Arthur wants or needs him to be, but the boy clings to him in this critical time of life when he is most in need of a male role model. But he won't find one here. In fact, it's this failure to connect which climaxes in an exchange between Michael and Griffin that gave me chills. It was literally a jaw-dropping moment for me in a film that has many. The two have worked together before (2006's "The Bondage") and their onscreen chemistry is palpable.

The audience laughed during the funny moments, and there was dead silence in the theater when things turned dark. So much of it is frightening that, as Green said in the Q&A afterward, he had to find actors who could infuse some humor into their characters, otherwise it would be too heavy. Just the right balance was achieved, in my opinion. It's a drama all the way, but the characters are real, and real people do have lighthearted moments even under the worst of circumstances. All around me were glistening eyes and tissues wiping away tears. At its heart it is a sad story and the audience was hushed at the end. As at most film festival premieres, there was the requisite applause, but being a very dark tale most just seemed stunned.

Many have wondered how much of the film is David Gordon Green's adaptation as opposed to the Stewart O'Nan novel on which it is based. Green did discuss this at length in the Q&A. He actually opened with a fairly detailed explanation of how the film came about. After reading the book, he knew he had to make it into a film. But he also immediately knew that it would have to be heavily adapted. He began writing, and found that he did so in bursts. The more he wrote the more he realized just how much would really have to come from his own hand. The impression I got was that what we see on screen is much more David's work than maybe even he had initially anticipated. For example, one obvious change was the time period. Rather than having it set in the mid-70's, Green moved the film up to a more indistinct time. He explained that the cost of doing a period piece is prohibitive, and it wasn't really so essential to telling the story that they be faithful to that time period. He was more interested in simply telling the story than doing a period piece with its inherent dependence on costumes, props, etc. I agree that it might have been a distraction.

Jeff McIlwain and David Wingo's score is haunting, as is the film. It is used sparsely, only to punctuate the dramatic moments, as the subject matter is weighty enough that it didn't need much augmentation. It's used efficiently and effectively. The music that Arthur's marching band plays is another story, but audiences will get a kick out of that. The film is visually stunning. No surprise here, as it was shot by Green's longtime collaborator Tim Orr. His work is unmistakable -- gutters dripping, swings on a swing set, clouds, contrails, aluminum siding -- you can always tell his work. He sees language in shapes and movement of inanimate objects. He then connects them to the action in the story, often with a wink and a nod. Blink and you might miss it. I love symbolism so to me it's like candy. He is very much the painter here. The beautiful winter landscape of Nova Scotia (standing in for rural Pennsylvania) gives him a palette from which he can choose many colors. The juxtaposition of Orr's beautiful photography with the horrors David Gordon Green exposes us to in "Snow Angels" is nothing short of genius.

This is a true work of art, to which many filmmakers aspire. Few hit the mark. I'm not sure if that's what David Gordon Green was trying to do here, but he did it nonetheless. There is little doubt in my mind that this is a film will make you think about the innocence of youth and how fleeting it is, and make you wonder if it has to be that way.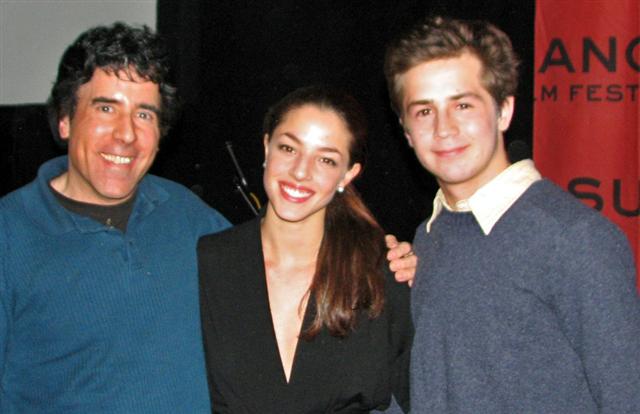 "LARRY-411," OLIVIA THIRLBY, MICHAEL ANGARANO AT SUNDANCE