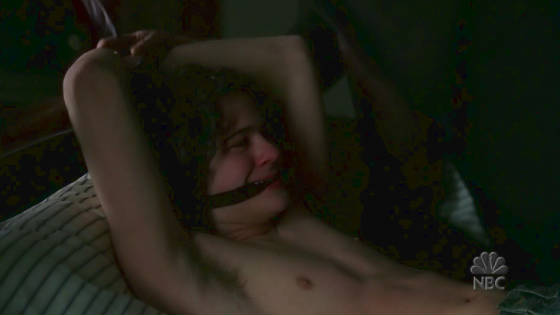 IN THIS POWERFUL EPISODE, CONNOR'S SECOND SVU APPEARANCE, EIGHT-YEAR-OLD JAKE WINNOCK (JACK VIGNONE) CONFESSES TO HAVING BEEN MOLESTED BUT WILL NOT NAME HIS ABUSER. SUSPICION FIRST FALLS ON HIS FATHER WHO SERVED TIME FOR ABUSING JACK'S OLDER BROTHER, TEDDY (CONNOR). HOWEVER, DNA EVIDENCE REVEALS TEDDY TO HAVE BEEN THE PERPETRATOR. FURTHER, IT'S DISCOVERED THAT TEDDY IS THE OPERATOR OF A WEBSITE THAT SELLS PORNOGRAPHIC IMAGES OF HIMSELF. BEFORE THE TROUBLED TEENAGER CAN BE ARRESTED, HE'S KIDNAPPED TO PREVENT HIS IDENTIFYING HIS MALE CUSTOMERS.
ONCE AGAIN, CONNOR DISPLAYS IMPRESSIVE ACTING SKILLS AND CONSIDERABLE COURAGE FOR AGREEING TO PLAY SUCH A
CONTROVERSIAL CHARACTER.