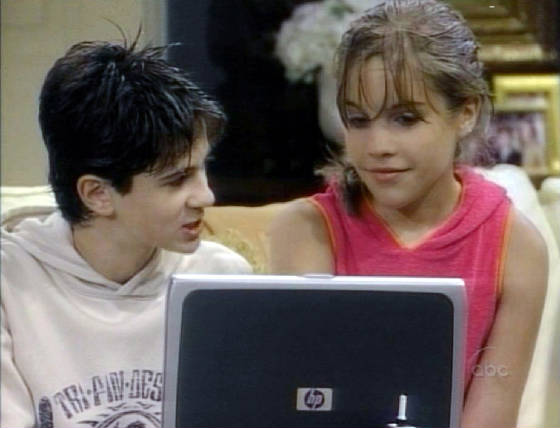 STARR WAS RESCUED FROM THE KIDNAPPER WITH THE, OFTEN UNWANTED, ASSISTANCE OF TRAVIS.
THE LOVE-STRUCK TEEN THEN PERSUADED HIS MOM TO SEND HIM TO A SUMMER CAMP NEAR STARR'S HOME IN LLANVIEW, PENNSYLVANIA.
THEY SPENT AN IDYLLIC TIME TOGETHER DESPITE SOME MISADVENTURES. ONE DAY, AFTER A SWIM AT THE COUNTRY CLUB, THEY HACKED INTO THE LOCAL NEWSPAPER'S COMPUTER, AND PLANTED UNFLATTERING STORIES ABOUT STARR'S DAD'S WORST ENEMY. OF COURSE, THEY WERE FOUND OUT AND FORCED TO APOLOGIZE.
WHEN CAMP ENDED, TRAVIS HAD TO RETURN TO NEW YORK AND HAS NOT APPEARED ON THE SHOW SINCE.
CLICK ON IMAGE FOR ACTUAL SIZE